HVAC_R
Too Hot? Too Cold? We can we fix that! Call Hurst for repair or new Installations.
GET A FREE QUOTE
DRAIN SERVICES
Clogged Drains to Sewer systems. We have the technology and experience to fix your flow.
GET A FREE QUOTE
Dave Hurst Plumbing & Heating
Dave Hurst Plumbing & Heating is the local team you can rely on for your complete heating and plumbing needs. We serve throughout the Kitchener-Waterloo, Cambridge, and Guelph area and have been doing so for over 35 years. In that time, we have helped many individuals, business owners, and organizations get the right service done for their particular need. Our team is fully licenced and insured. We are also proud members of the Ontario Plumbing Association and the Federation of Independent Business, as well as T.S.S.A. Certified. Although we are more than qualified to do the work, it's an added bonus that everyone on our team is courteous and professional.
Hurst Plumbing is reliable. We are on call every day of the year, 24 hours a day, seven days a week. No matter when you need us, we will be there to lend a helping hand. We service residential, commercial, and industrial needs.



ABOUT US
Dave Hurst Plumbing & Heating offers professional services through Kitchener-Waterloo, Cambridge, and Guelph. We have been serving the community for close to 40 years, offering professional and courteous service.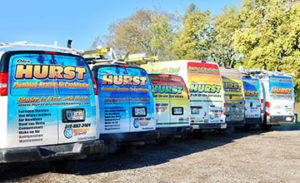 FULLY CERTIFIED
Dave Hurst Plumbing is a fully certified Mechanical Trades company. We are experts in the Plumbing, Heating Cooling & Drainage field. If you have a problem we can fix it.

DRAINAGE
Drainage problems are something that Hurst Plumbing are experts in solving.  We have specialized equipment to diagnose, solve and prevent in the future issues for your household, septic and sanitary drainage.




QUOTE

Do you have a renovation job you're looking at? Just need a second opinion? Let us give you a free estimate.


EMERGENCY?

Is it leaking? Backing up? Causing Issues? Don't wait, call us 24/7 we are standing by to help.
RECENT NEWS
Kitchener's Dave Hurst Plumbing & Heating Inc. knows your pipes see a lot every day, and sometimes…